Today I'll show you how to clean your ceramic, porcelain or enamel pots and pans – without harsh chemicals and without ruining them in the process!
PROJECT TIME: 15 min.
PROJECT LEVEL: easy
SUPPLIES:
– baking soda
– coarse salt
– water
– wooden or plastic spatula
– stove
– small towel or sponge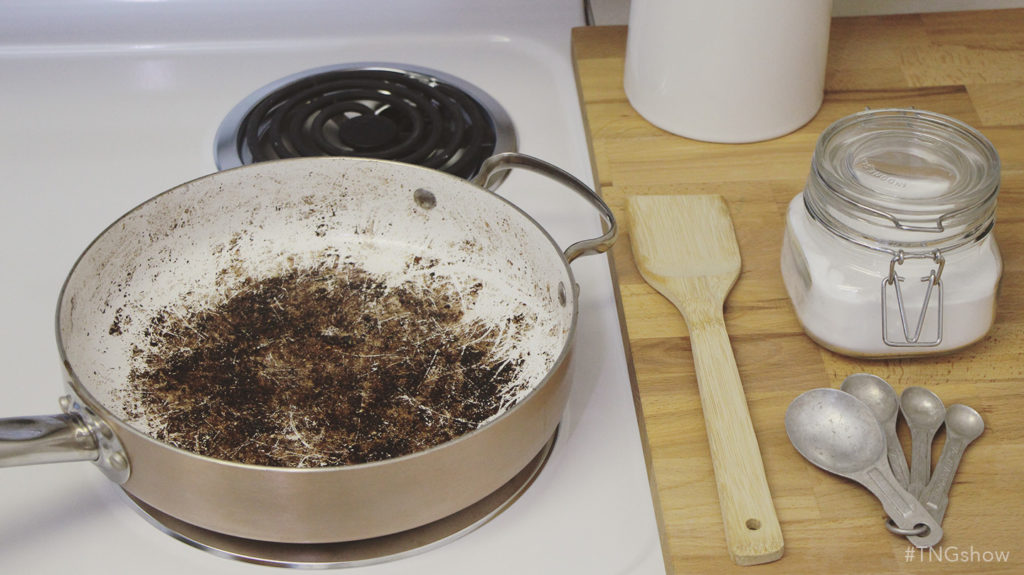 STEP 1: REMOVING BURNED FOOD
PREP. Place dirty pot or pan on the stove and pour a shallow layer of water over the burned food in the pan.
BAKING SODA & SIMMER. Turn stove onto medium-high until water begins to simmer then sprinkle with baking soda – let simmer for 1 minute.
SCRAPE. Gently scrape the food off of the pan using a wooden or plastic spatula – don't use metal, you could ruin your pan.
RINSE. Carefully rinse the pan in warm water and set it aside to cool completely before the next step.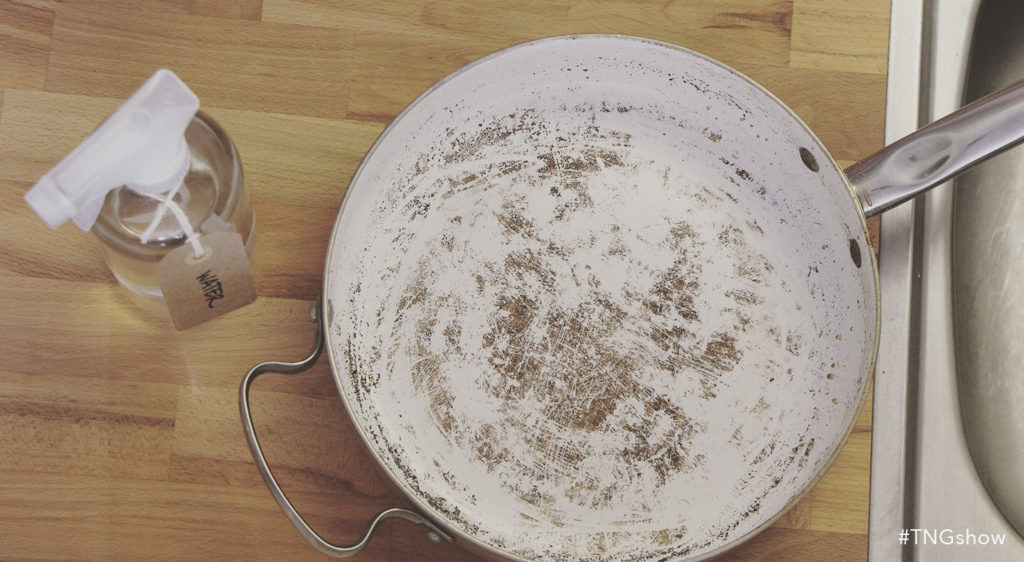 STEP 2: REMOVING FOOD STAINS
Buildup reduces the performance of a pan's non-stick surface…let's get rid of it!
PREP. Dampen the pan with water and set aside.
MIX. In a bowl mix together 3 parts baking soda with 1 part water to make a paste. (I used a tablespoon as my "part".)
SCRUB. Use a soft towel or sponge to scrub the grime and stains with the baking soda paste – for stubborn stains, add some coarse salt and continue to scrub the pan until it's stain-free.
WASH in warm soapy water and you're done!
That's all there is to it!
All this month I'm sharing my favorite natural cleaning methods so be sure to subscribe to The Normal Girl Show so you don't miss an episode and I'll see you next week with another natural cleaning video, so until then…stay normal!
-Katie