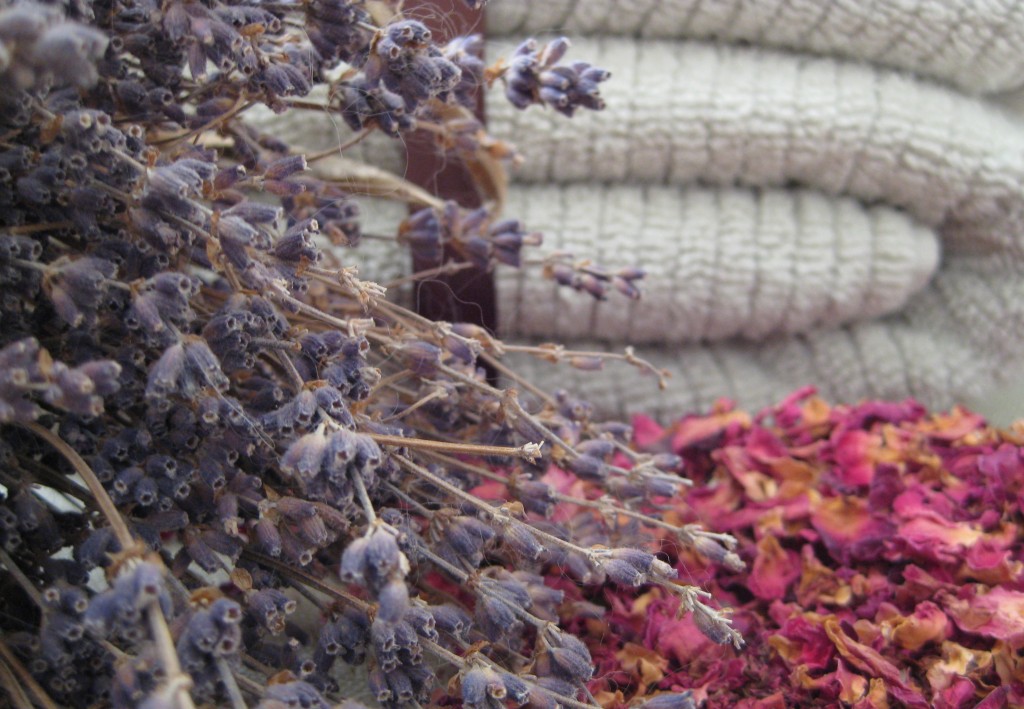 Ditch your dryer sheets and embrace the latest trend in simple, sustainable living…dryer sachets!  These chemical-free, all-natural alternative to dryer sheets have been growing in popularity as people try to eliminate unnecessary chemicals from their homes, but have you ever wondered how they work?  In this week's column, I'll tell you why they work and show you how to make your own.
What Is A Dryer Sachet And Why Does It Work?
A dryer sachet is a lot like any other sachet, it's a bag or pouch made of porous fabric that is filled with fragrant herbs. What distinguishes dryer sachets from their culinary counterparts, is the type of herbs that are used in it. Most dryer sachets are made exclusively with lavender because it is a highly fragrant herb that eliminates static cling, and the residual smell left on clothing, repels moths. I've added fragrant rose petals in the custom herbal blend below, because I enjoy the light scent in combination with the lavender.
Dryer Sachet Herb Blend
The ingredients for this dryer sachet mix are gentle enough for sensitive skin and can be used when laundering children's and infant's clothing.
You'll Need:
1/4 c. dried rose petals
1/4 c. dried lavender buds
4-5 drops lavender essential oil (optional)
1 dryer sachet*
*Dryer sachets can be purchased online or you can make your own using an old sock or stockings. You can also sew your own reusable and refillable dryer sachets, using fabric scraps or an old t-shirt.
Assembly:
Place the herbs in the dryer sachet of your choice and add the essential oil drops. If using an old sock or stockings, add the herbs and securely tie the end, or ends, into a knot.  If you have enough fabric, you can tie a double knot to be safe.
To Use:
Each sachet can be used 7-10 times (the sachets can be used more than 10 times if you don't mind a reduction in scent). Before each drying cycle, remove the sachet and pinch it between your fingers a few times, to release the herbal essences.
When you've used the bag and no longer notice a strong scent in your laundry, you can deodorize and freshen your vacuum cleaner by sprinkling the herbs on the floor and vacuuming them up!